7 Of The Best Ways To Spruce Up Your Home For Spring
Take spring cleaning a step further and try these top 7 ways to change a room's look or set a new mood without spending anything but a little time. (Oh yeah, did we mention these effective ideas are all free??) Check out a portion Houzz contributor
Laura Gaskill
's tips for a free spring spruce up that you can do for every room in your home!
Arrange your coffee table nicely. A stack of books, a tray or basket, and a vase of flowers are all you need to make your coffee table look chic and pulled together.
Take scissors outside and cut something to put in water. Don't let the lack of a flower garden stop you — get creative! Even weeds or a bit of green foliage from the tip of a backyard tree branch can be beautiful.
Use up leftover paint on small projects. A bit of paint left in the can is all you need to paint a mirror frame or group of accessories. Try painting just the legs of a table or chairs, the edges of picture frames, the interior of a tray or the bottom of a vase.
Swap photos in frames. An easy way to give your room a fresh look is simply by trading out the photos or artwork in the frames on the wall. Use old black and white family photos, pics from a recent trip or something completely different, like art postcards.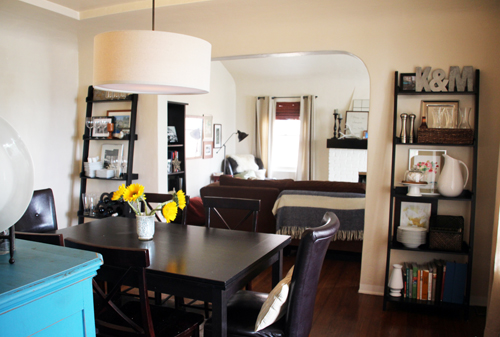 Move your furniture around. Move your bookcases into the dining room (or your dining table into the living room) for a cozy library vibe. For a smaller change, try switching chairs, side tables or lamps between rooms for a new look.
Rearrange your counter. Counters get cluttered up so easily; thankfully, it doesn't take long to get things looking nice again. Start by clearing everything off your countertop, and replace only the items you use daily. To take it a step further, choose a few pretty items to display, like a serving tray propped against the wall and a cream pitcher filled with flowers.
Try your rugs in different rooms. Why not bring your dining room rug into the kitchen or try your living room rug in the bedroom? You may like the results so much, you make it a permanent change — and if not, you can always put the rugs back.