The REAL Way To Use Social Media Effectively
I've always thought that no one stayed in touch with past clients better than real estate agents. This thought was probably formed early as I moved several times during my childhood and adolescence and had the opportunity to know many agents. But even beyond that, my idea continues to be supported by my interactions today. While visiting my parent's home at Christmas I saw they had received a personal Christmas card from a real estate agent who sold them their second home - 30 years ago!
My husband and I purchased our home a little more than five years ago. We worked with an incredibly sweet real estate agent, Beverly Fenello, here in Georgia and were very satisfied with our experience. We would have been happy to recommend her to a friend and we knew someday when we sold our house we would look her up; but, beyond that we didn't think much more of the relationship. Sure, we got cards in the mail from her, listing and comp information and even a Starbucks gift card once - yummy! But that was just good marketing. She was just trying to keep her name "top of mind," right? Another real estate agent doing a great job of keeping in touch!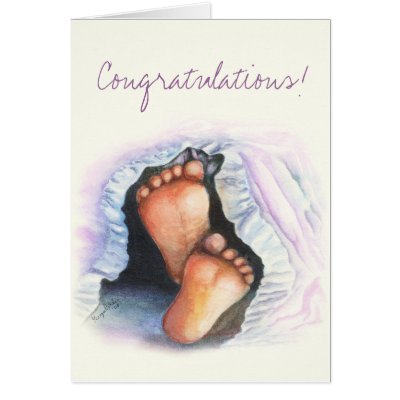 Until Beverly connected with me on Facebook. We connected from both of our personal Facebook accounts, where I keep in touch with old friends and far away family and don't get into any business. Several months back I announced on my Facebook account that my husband and I were expecting our second baby. I got many congratulations posts, and one of them was from Beverly. But I didn't have my "wow!" moment until a few days later when I received a card in the mail. When I opened it I saw a cute picture of yellow baby booties and the big words "Congratulations!" I had only received two other cards and was curious to see which of our family this was from. It was from Beverly!
Beverly, our sweet real estate agent who I had not seen or talked to for over five years had used her connection with me on Facebook to help us celebrate a very personal moment in our family's life. She had used social media to connect personally with her client - not just online, not in email, but much deeper than that! This is the REAL way to use social media effectively. Though it's tempting, Facebook and Twitter should not just be ways for businesses to push their message. The effective way to use these resources is to listen. Listening to what her clients had to say about their lives is what made Beverly my new social media hero.
For Beverly it was not strategy - it really just came naturally. But for those of us who don't have the inherently sweet disposition, we can purposely develop a blueprint that will yield the same results.
Respond and interact more than you "update"

Take information you've learned about your clients on social media and use it outside of social media

Is your client looking for a plumber but you're an architect? Email or call them with a referral to a trustworthy professional plumber you may know. Your selflessness won't go un-noticed.

Be like Beverly! Send out cards (snail mail cards!) when your clients announce they are engaged, married, expecting, moving, etc. These are tangible proof that you're listening and you care.
And for anyone who may be looking for a real estate agent in or around Atlanta, might I suggest someone who is a great listener? Find Beverly Fenello @ http://sweethomesinatlanta.com/
-This blog was written by AK's Marketing Communications Manager, Emily Smith-