The Worst Kitchen Trends
We really enjoyed the blog by
Jamie Goldberg on Kitchens.com
where she lists granite countertops, travertine floors, industrial style faucets and french door refrigerators as among her least favorite kitchen products! We thought we could add to this list of kitchen trends gone wrong and we bet you can too...
Bigger Is Not Always Better
We know kitchens are some of our most "lived in" spaces. They are where the party always ends up and where we spend a lot of our family time. But when you have to send text messages from the table to talk to someone by the refrigerator - you've gone too far. Kitchens should be properly sized based on the size of your home and your family.
Kitchens sell homes
- but maxing out the size of your kitchen at the expense of the rest of your house is defeating the purpose!
This really goes for too much of any pattern - not just floral. Don't put the same pattern on your backsplash, tile countertop & walls. Don't make your walls so dizzying that you can't locate the peppermill because it's now camouflaged! Too much of any pattern in your kitchen can make you lose your appetite.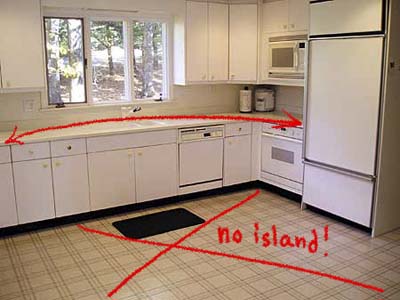 "The worst design idea of the century is the continuous-counter kitchen (CCK) planned around walls. Storage placed on walls is good, for example floor standing cupboards or appliances like fridges—but not working areas. Why do you want to prep food with a wall or a cabinet door a few inches from your nose, or eyes for that matter? Islands and peninsulas facing into the centre of rooms are the places for prepping and cooking. Sociability is not possible without eye contact."
Johnny Grey
, Architect and
Kitchen Designer
, London and San Francisco, CA